Importing Mac contacts
refined

.
More options, imports Excel files, restores Address Book groups from vCards.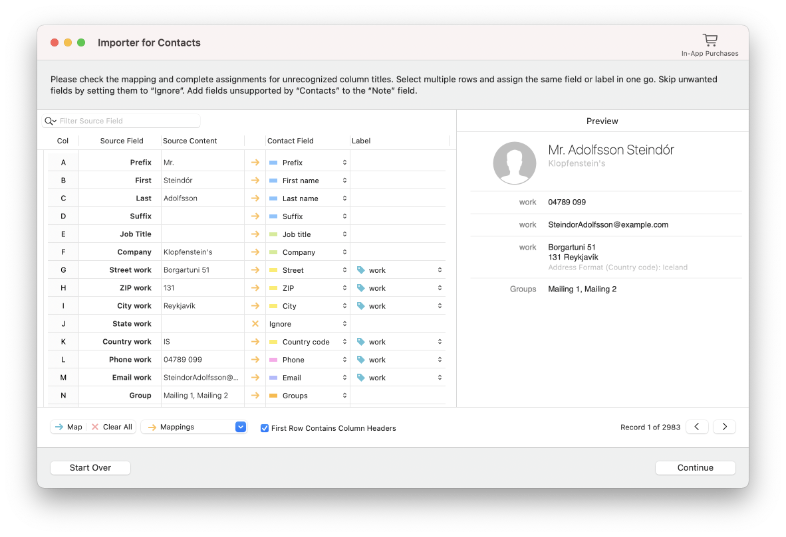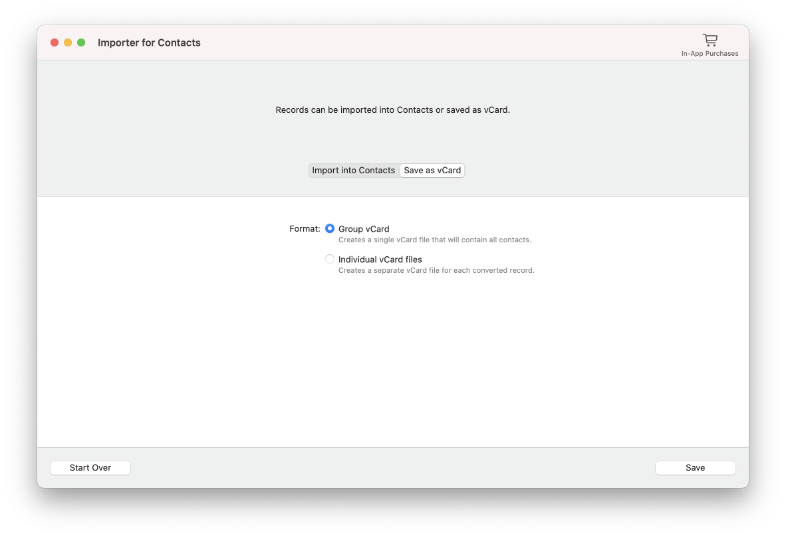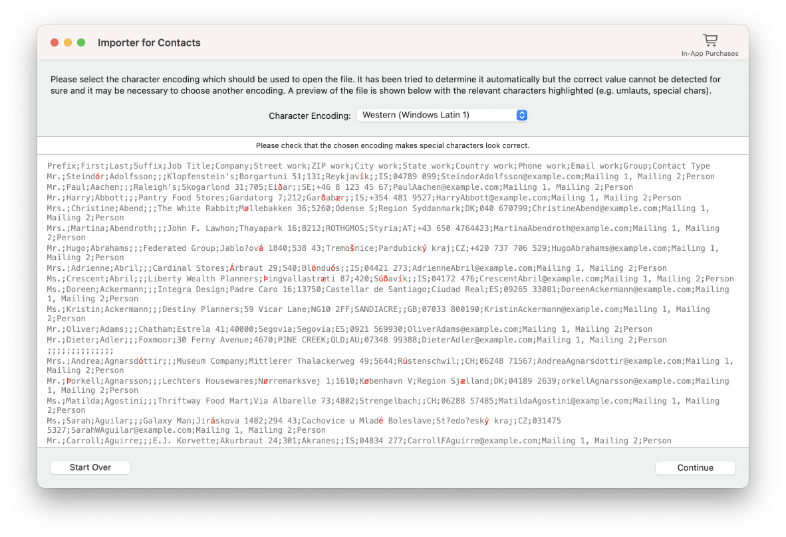 Importer for Contacts is a Mac app that can convert Excel files, CSV files, and tab-delimited files to vCards. The app can also restore Address Book groups from vCards. Importer for Contacts is a native MacOS application and supports all fields of a Mac/iOS Address Book contact, including custom labels. It is a must for anyone who regularly needs to import data into Apple Contacts.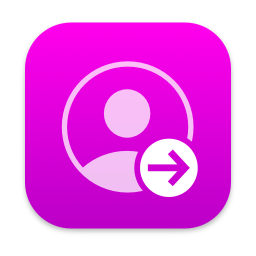 If you want to export data from Apple Contacts to different formats (so the opposite way), have a look at
Exporter for Contacts
.
Main Features
Imports Excel files (.xlsx), including embedded pictures
Imports CSV files that Apple Contacts refuses to open
Imports vCards with automatic group restoration
Maps fields automatically and remembers field mappings for future imports.
Lets you also save field mappings as separate import setups to make repeated imports easier
Supports custom labels (lets you also create one on-the-fly)
Can perform automatic group assignment. Groups that do not already exist will be created. In your import file, simply add a column with a comma-separated list of group names that the contact should be a member of.
Supports line breaks in CSV and tab-delimited text file fields (street addresses, notes, etc.) if the file is properly formatted
Fields not supported by Contacts can be added to the "Note" field
Provides a powerful feature to extract comma- or new-line separated labelled value lists from an import field. For example, if your import file contains a field with several phone numbers in the form "work: (123) 456-789, home: (987) 654-321", map this to the "Phone" contact field and choose "Extract from field" from the "Label" popup menu. Importer for Contacts will then split the text into separate values, assigning the provided label to each of them accordingly.
Comes with an interactive preview to make it easier to determine the character encoding of the import file – helpful if you don't know which encoding was used or if you have no idea what a character encoding is.
What about privacy?
As with all of our other apps, Importer for Contacts doesn't collect any data. All conversion takes place locally on your Mac.
Is it free or a paid app? Where can I download it?
Unless unlocked with a license or an In-App Purchase, Importer for Contacts allows the import of 10 records to give you a chance to check if the app does fit your needs.
Requirements
You need a Mac with macOS 10.12, Apple Silicon or Intel CPU.