How do I convert Apple Mac VCF contacts to CSV, Excel or Outlook OLM?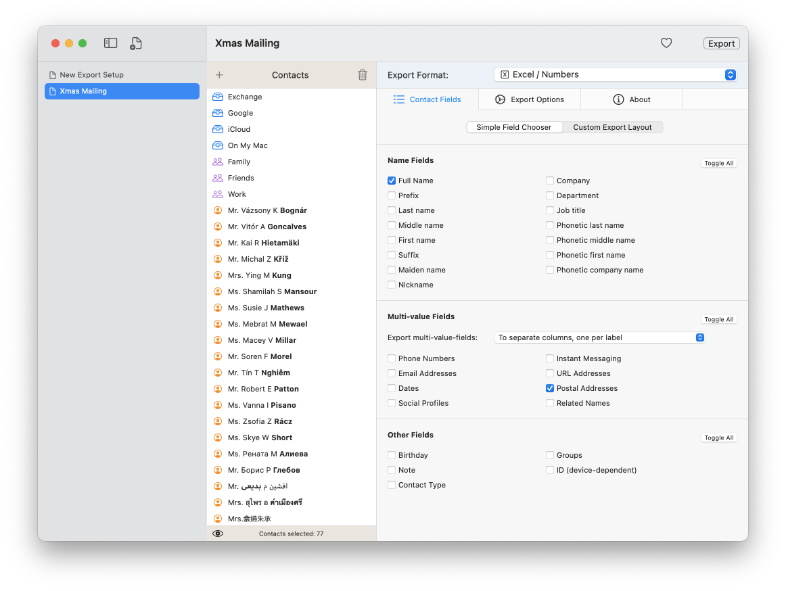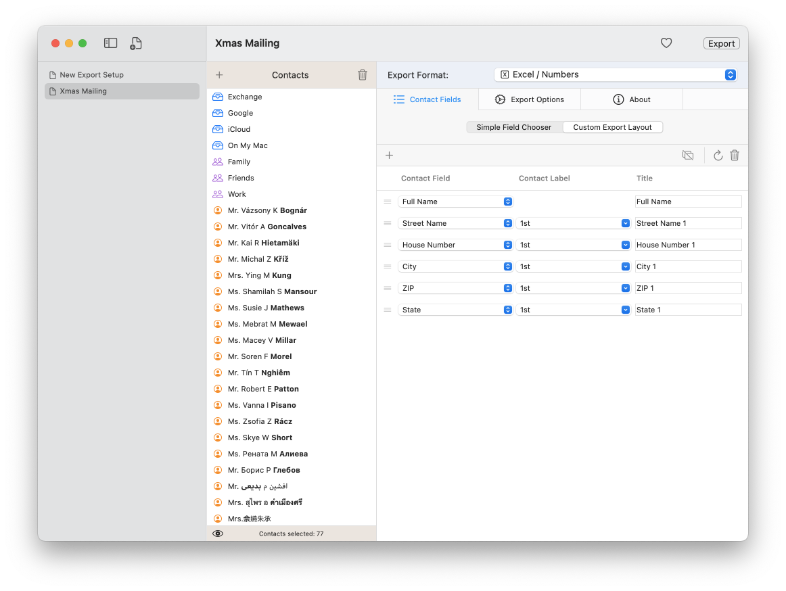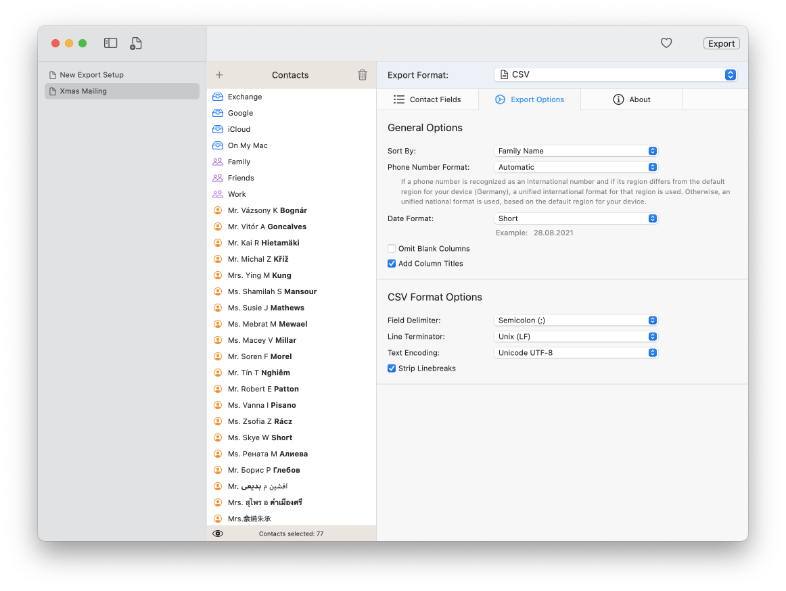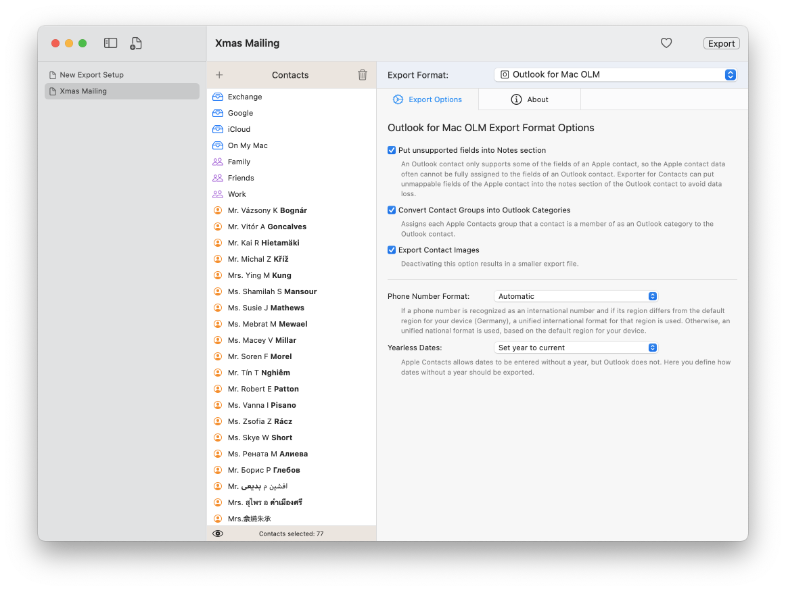 Exporter for Contacts 2 is a Mac app for exporting Mac Address Book contacts to CSV, Excel, Outlook OLM and various other formats, capable of organizing export setups into reusable templates to make repeated exports much easier. Compared to similar apps, Exporter for Contacts 2 offers the highest level of flexibility for exporting contact data from iCloud and other sources while remaining easy to use.
Rewritten from scratch for macOS 12 Monterey, Exporter for Contacts 2 is a powerful successor to the first series, which has been available since 2006 and still serves thousands of users. As a dedicated Mac app, Exporter for Contacts is not constrained by the limitations and paradigms of the iOS touch interface and can deliver efficient usability and features that would be cumbersome to impossible to use on iOS.
Main Features
Exporter for Contacts has many features that make the app stand out from the crowd. You can create as many export setups as you want for recurring exports. Each setup automatically remembers which contacts and contact fields you have selected. You can select whole address book accounts, groups and also individual contacts together for export in one go. In addition to the handy Simple Field Chooser, you can also specify in more detail what should be exported and in which order for formats like Excel, CSV and XML using the Custom Export Layout Editor. The app can also format phone numbers in a uniform way during export.
Click here for a full list of the main features
Export Formats
Exporter for Contacts can do more than a simple converter that just write all contacts with all fields into a big CSV file at the push of a button (although you can also use it this way). Besides special formats like Google Contacts and Outlook for Windows CSV, it also directly supports the Outlook for Mac OLM format with all the trimmings. Of course, the app can also generate CSV and Excel files, and you can specify in detail which fields to export and in what order.
When exporting as a CSV or Excel file, the app even supports address book fields that do not exist in the Contacts app. For example, it can export street name and house number separately. It can also combine data neatly. If a contact has multiple email addresses or phone numbers, they can be easily exported as a list into a single table cell.
Click here for a full list of supported export formats
What about privacy?
There's not much to say here: Exporter for Contacts doesn't collect any data. All contact conversion takes place locally on your Mac – a clear advantage over online converters where you never know what happens to your contacts. If it matters, the developer is from Germany.
Is it free or a paid app? Where can I download it?
A full-fledged app like this that does not charge for updates, that does not display ads and that does not sell user data has (and has to have) it's price. In a free basic mode, Exporter for Contacts can generate custom vCards (these are vCards where you decide which fields are exported). This allows you to download the app for free and play with it to get a feel if it could be of use to you. All other export formats than "Custom vCard" can be activated by an affordable one-time purchase. The basic version will allow you to test any export format with an unlimited number of contacts.
Requirements
You need a Mac with macOS 12 Monterey. The app is optimized for Intel and Apple Silicon CPUs as well. If you are still using macOS 11 Big Sur or an older version, check out Exporter for Contacts 1.